Thank you for your interest in being a part of the important mission to improve human
capability and opportunity around the world. Future Talent Council is a membership-based organization gathering global talent leaders eager to collaborate on a positive agenda for change.
The global ecosystem of leaders you are about to join, represents a dynamic, resourceful and action-oriented group of government officials, C-Suite executives from the world's largest employers and leaders of higher educational institutions: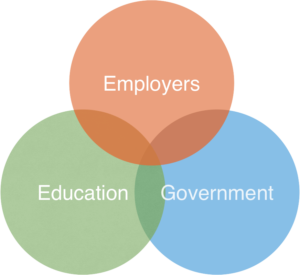 Employers: CEOs, CHROs, Board Members and other senior leaders.
Educational Institutions: Presidents, Provosts, Deans, Rectors and other senior leaders.
Government Bodies: Ministers of Labour, Education, Technology and other relevant fields. Secretaries responsible for education, labor or commerce, and other relevant government bodies.
Digital transformation, AI and changing demographics will impact talent in all the world's largest organizations. Strategies and policies need to be implemented now, to support the changes of tomorrow." (Lars-Henrik Friis Molin, Chairman)
By becoming a member of Future Talent Council you access a world-leading ecosystem of the most knowledgable, influential, passionate and determined leaders. You will strengthen your personal and your organization's global network of change-makers. All working to pass on the legacy and the learnings from this generation, onto the next. Aiming to improve human opportunity and capability around the world.
Included in your membership
Future Talent Summit
As a member of Future Talent Summit you always have a dedicated seat at Future Talent Summit, the foremost global gathering of corporate, educational and government talent leaders, all dedicated to improving the human talent opportunity and capability. 2 nights of lodging at a 5-star hotel included.
Future Talent Summit 2020 is in Stockholm, June 17-18.
Future of Talent Gala Dinner
The Future of Talent Gala Dinner is traditionally arranged on the first evening of the annual Future Talent Summit.
At a world-class venue, we gather to strengthen working relationships, and personal connections, in between Council members across industries, sectors, and regions.
Regional events and roundtable work sessions
Future Talent Council members have access to a portfolio of regional events and roundtable work sessions. These exclusive events are normally capped at 10-30 attendees and discussions focused on particular issues, data sets or challenges. Tailored for your situation and road map.
There are currently 6 planned regional events for 2019/2020.
Quarterly conference calls
The Council team of editorial and analyst staff will prepare your dedicated quarterly conference calls. These sessions are tailored to your situation, your interests, and your challenges. An executive summary of everything vital happening in your talent category.
Advisory Boards
A vital part of the Future Talent Council ecosystem are our Advisory Boards. These specialized units each contain a group of thought-leading professionals assigned to uncover a more in-depth understanding and strategic direction on a certain topic, phenomenon or region.
Advisory Boards take the global overarching work of Future Talent Council – and Future Talent Summit – further and work to gather and analyze case studies and data sets, publish original studies and work and influence the global strategic direction of policy and strategy. Future Talent Council members are shortlisted to assignments on these Advisory Boards.
Content concierge
As a member of Future Talent Council you have access to a dedicated content concierge focused on keeping you and your organization up-to-date with global talent studies, case studies and insights.
Library of research
You get access to our library of research. Exclusive reports produced by us, as well as relevant studies sourced from research partners from around the world. Members are also encouraged to share data sets, studies and insights within the ecosystem itself.
There are currently six exclusive studies scheduled to be released in 2019/2020.
Curated newsletters
Future Talent Council release two regular newsletters; one curated collection of stories, news pieces and insights from within the ecosystem itself, and one automated newsletter crawling the web for the most acknowledged, shared, discussed and rated writings on talent from international media partners.
Influence
Future Talent Council is a collaborative network of ambitious colleagues, and as a member, you will be welcomed to influence the focus and work of the Council in the direction you see being most valuable for talent worldwide. The Council also welcome you to introduce the ambition of your organization for us to effectively collaborate on strengthening your strategic development and your position on your market, and in your region via efforts such as collaborative regional events and research programs, and jointly dispatched Advisory Boards.
We will contact you, providing more details on the membership and inviting you to a discussion aiming to evaluate the most relevant and beneficial form of membership for you, and the ecosystem as a whole.