Toronto 2020 – Regional Talent Roundtable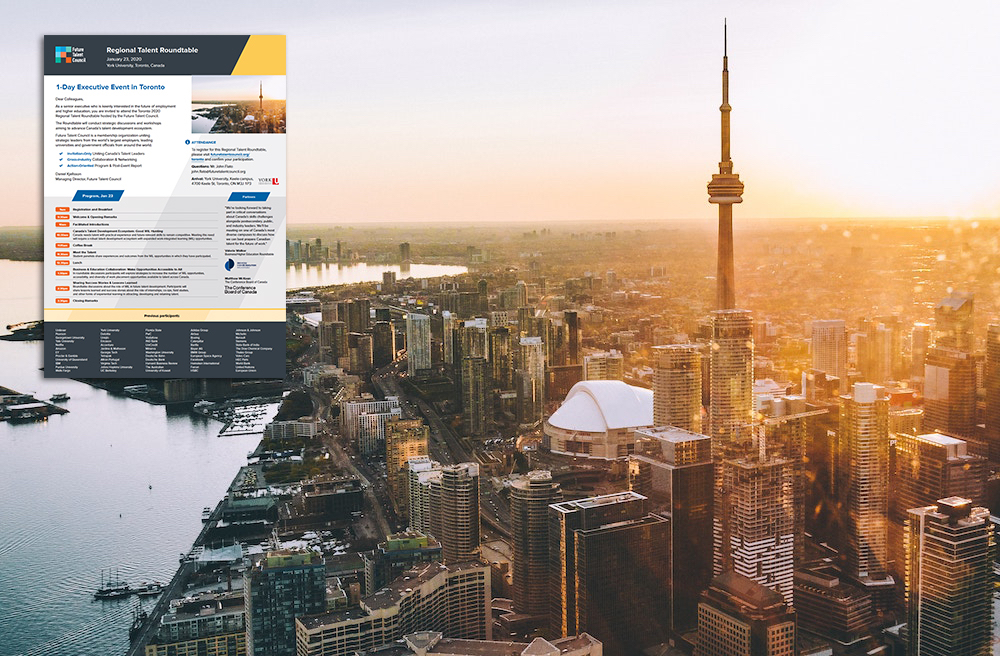 On January 23, 2020, Future Talent Council is welcoming senior executives, keenly interested in the future of employment and higher education, to participate in a Regional Talent Roundtable event at York University in Toronto.
You can see, and download, a PDF version of the official invitation on this link.
You can see a Hightlight reel (video) of a previous Future Talent Council event here.
The Regional Talent Roundtable in Toronto 2020 has been developed in collaboration between Future Talent Council, York University, Conference Board of Canada and Business/Higher Education Roundtable. It has a cap of 50 participants. There are no costs associated with participating.
Agenda, January 23
9 am – Registration and Breakfast
9:30 am – Welcome & Opening Remarks
10 am – Facilitated Introductions
10.30 am – Canada's Talent Development Ecosystem: Good WIL Hunting
Canada needs talent with practical experience and future-relevant skills to remain competitive. Meeting this need will require a robust talent development ecosystem with expanded work-integrated learning (WIL) opportunities.
11.15 am – Coffee Break
11.30 am – Meet the Talent Student
Panelists share experiences and outcomes from the WIL opportunities in which they have participated.
12.30 pm – Lunch
1.30 pm – Business & Education Collaboration
Make Opportunities Accessible to All In roundtable discussions participants will explore strategies to increase the number of WIL opportunities, accessibility, and diversity of work placement opportunities available to talent across Canada.
2.30 pm – Sharing Success Stories & Lessons Learned
Roundtable discussions about the role of WIL in future talent development. Participants will share lessons learned and success stories about the role of internships, co-ops, field studies, and other forms of experiential learning in attracting, developing and retaining talent.
3.30 pm – Closing Remarks
You can see, and download, a PDF version of the official invitation on this link.
Register to attend